This year, following the digital-first transformation we've seen in part due to the pandemic, we expect subscription-based digital experiences to accelerate. Whether you're seeking to create a member-supported news or media website, an educational video platform, a members-only podcast or offering exclusive benefits to your existing visitors, you'll want to make sure their user experience is as seamless as possible. That includes before and after sign up, so that you retain subscribers long-term.
Here at Interactux, we've worked with a variety of membership-driven sites (powered through integrations with Memberful), and we've learned a few best practices over the years for building successful online communities.

1. Create a Compelling Member Features & Benefits Page
Both new and returning visitors to your website need to understand the value proposition for becoming a member. Your membership overview page should make the case for why someone should join, through both compelling features and benefits and social proof. Be sure to include:
An emotional appeal as to why someone should someone become a member.
A breakdown of the features and benefits one can expect from membership, broken down by plan if you offer different membership tiers. (Be sure you've done your user research beforehand to ensure your benefits are desirable to your audience)
Clear pricing and billing frequency. Do you plan to offer a free trial to new members? Be sure to highlight this prominently.
Testimonials from existing members.
A very prominent call to action to get started (such as Join Now).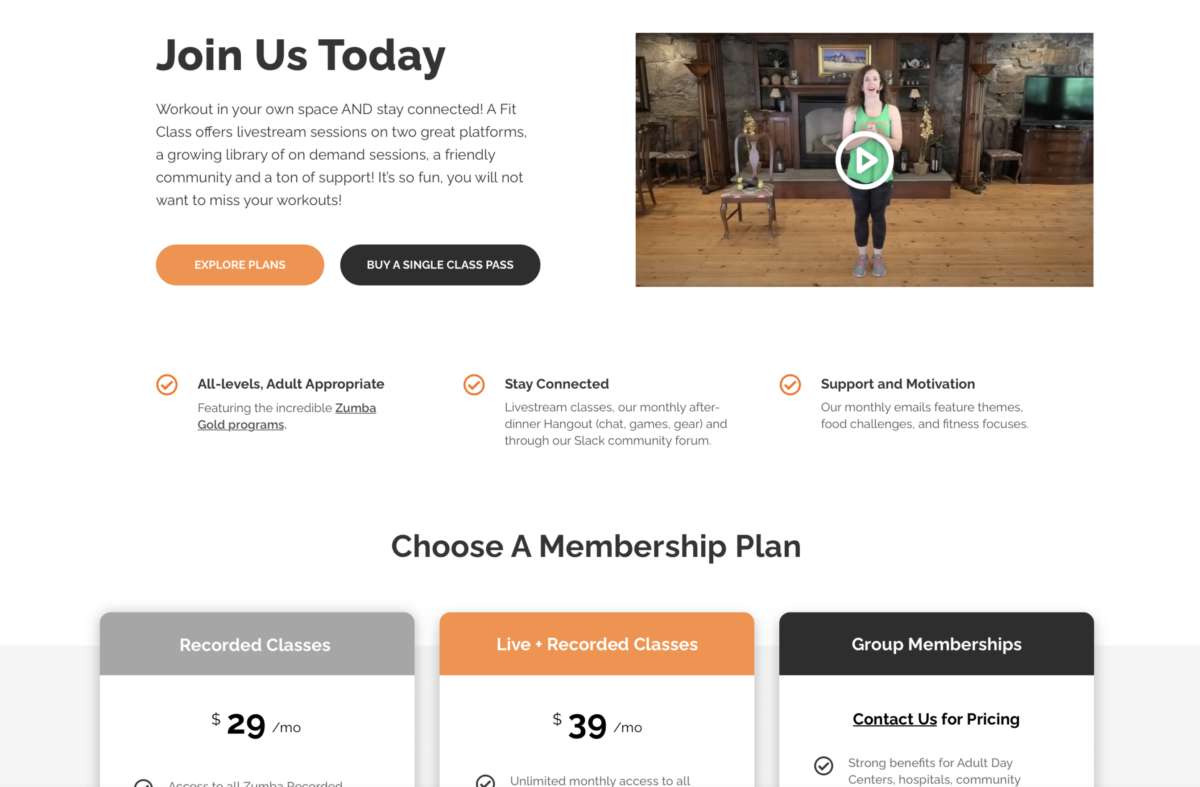 2. Ensure the Sign Up Experience is Smooth and Simple
Once you've got your visitors hooked, you'll want to make the signup experience as fast and easy as possible. Long forms or unprofessional-looking sign-up pages can cause visitors to exit during the process.
Ask for as little information as possible. That might just be name, email address and credit card. Don't ask for a phone number or mailing address unless you actually need it.
Ensure the sign-up form mirrors the look and feel of your website, especially if you're using a third-party tool. Ideally your sign up form would be embedded directly on the website or presented as an overlay.
Be sure your sign-up form works equally well on both mobile and desktop.
Present users with a confirmation success message once they've completed signing up, with clear next steps on what will happen next (you should also send this information as part of a confirmation email).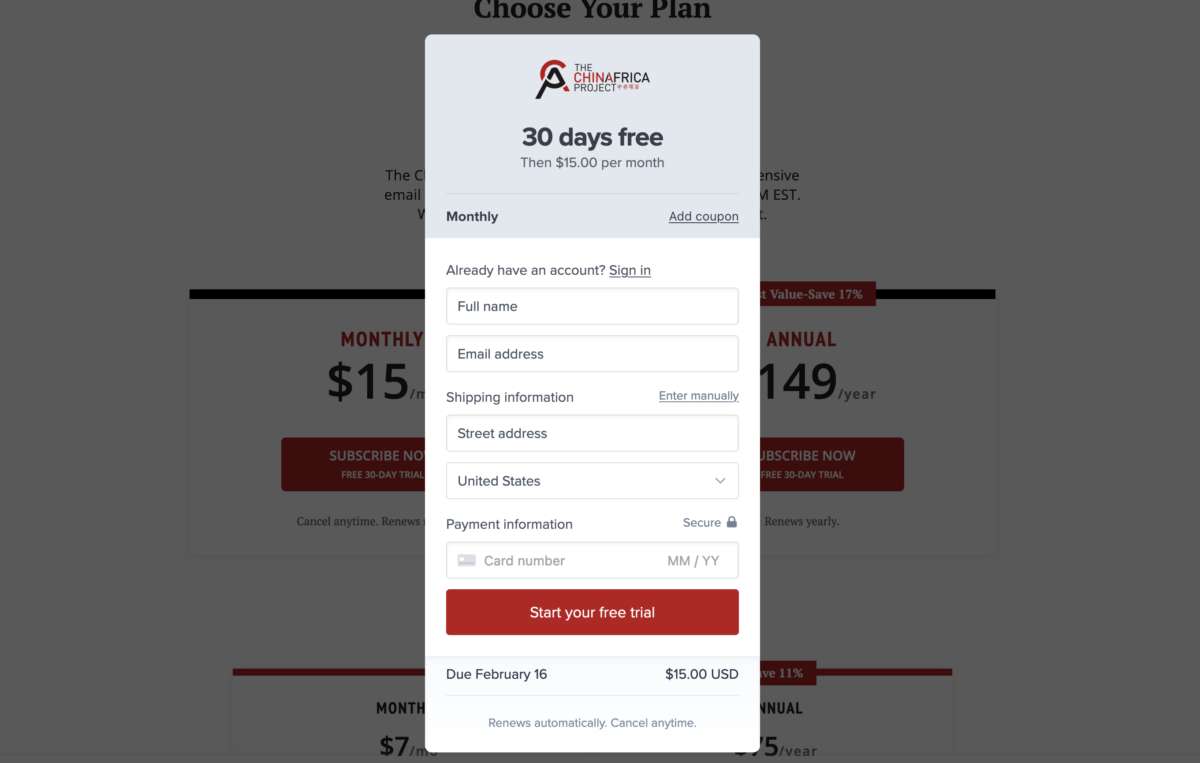 3. Member Dashboard - Your Subscriber's Hub for Member Resources
Your member has signed up. Now what's next? Upon first sign up, we recommend redirecting them to a welcome page or dashboard that outlines their membership benefits, with deep links to access them right away. This might include instructions on how to subscribe to the members-only podcast or where to access your exclusive video content.
Make it simple to access the membership dashboard after signing in on subsequent visits. We include a link in the header navigation and also redirect users there upon login.
Include the latest member updates and exclusive content access right from the dashboard.
Display links to help the member manage their profile, with places to easily update billing information and update their membership plan
Include a way to reach out to you for help, if needed (see below).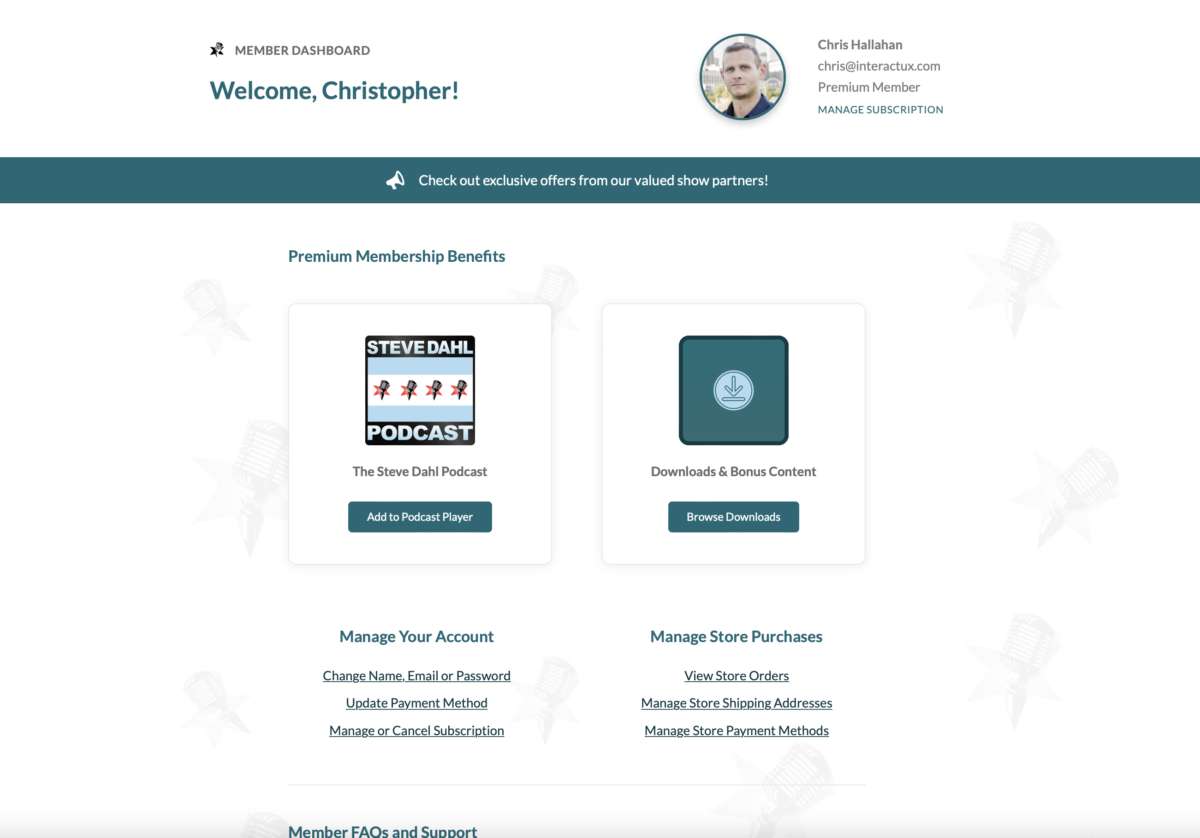 4. Offer Valuable Content and Exclusive Features
This is what it's all about - creating compelling and meaningful content to keep your users subscribed month-to-month. Since your subscribers are paying a subscription fee, they'll expect new content to be released on a regular cadence (ie. monthly or quarterly).
Don't be afraid to keep your users informed when new content or feature are added. That includes directly in your website's Member Dashboard, but also via an exclusive email newsletter.
Track the use of your content and features monthly via analytics to see which content is getting the most traffic, so that you can tailor future content to what's most popular.
Get feedback from your subscribers regularly to ensure you're offering the content and experience they want to see.
5. Provide a Way for Members to Ask Questions and Get Help
Member support is something that's frequently missed, but just as important as the previous items. While we hope everything will go smoothly as part of a member's experience, you'll inevitably have users who encounter technical issues, billing questions and feature requests. While this doesn't need to be the most prominent feature on your website, this option should be available when a member needs it.
Consider building a bank of frequently asked questions (FAQs) that's accessible to members. This is a great way to help users resolve issues on their own!
While email support is great, it can become unmanageable as your membership community grows. Once you're at that point, consider signing up for a customer support service to handle the flow of incoming support requests and organize them into a support queue.
Take it a step forward and offer an automated chatbot that can both handle incoming support requests, but also offer up answers from your support knowledgeable. (Groove is a great support service that we've implemented for several clients with success).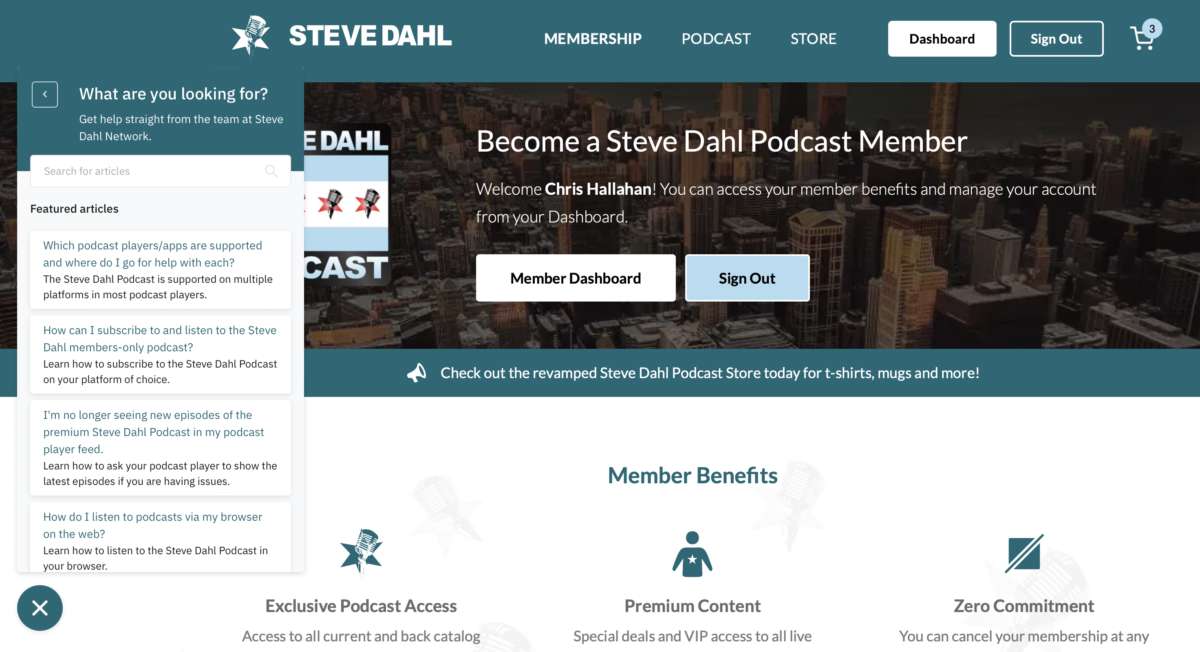 While these points don't cover everything you'll need to get your subscription site up and running, it's a great place to start. Remember, customers who have a great and consistent user experience will keep them engaged with your exclusive content and, in turn, keep their subscription active for months to come.